Custom Handmade Knives
Built in Montana
By
Phil Moen, Maker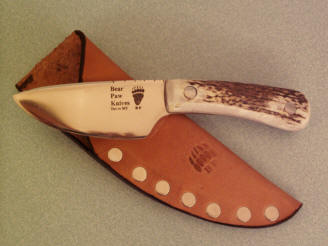 "Number One" skinner, as featured in Field & Stream Magazine, September 2005 issue.
(To place an order or contact Bear Paw Knives, use the Feedback page)
To view more knives check out the Blade Gallery
Bear Paw Knives is located in north central Montana, outside the town of Havre, about twenty-five miles north of the Bear Paw Mountains. The model names for Bear Paw Knives are all taken from locations within the beautiful Bear Paw Mountains.
Bear Paw Knives are quality user knives made by Phil Moen, of Havre, Montana. The intent of Bear Paw Knives is to create quality knives at a reasonable price utilizing only the best of materials and assembly methods. The blades of most Bear Paw Knives are formed of D-2 tool steel. Handle scales are selected from a variety of materials chosen for their beauty and durability. Bear Paw knives are assembled using a combination of state-of-the-art adhesives and mechanical fasteners to insure that they are as well made as possible. Each Bear Paw knife should provide years of dependable service.
Bear Paw Knives are made from D2 tool steel blanks recovered from industrial blades utilized by the paper industry. The blanks are sliced out using a CNC plasma cutter that precisely cuts the design without adversely affecting the hardness or temper of the steel. The D2 blade material used in Bear Paw Knives has been industrially heat treated for the maximum combination of strength, toughness, and durability possible.